Back to Research & Case Studies articles & videos
Sound Waves Spelling and synthetic phonics: The facts
Sound Waves Spelling 6/11/18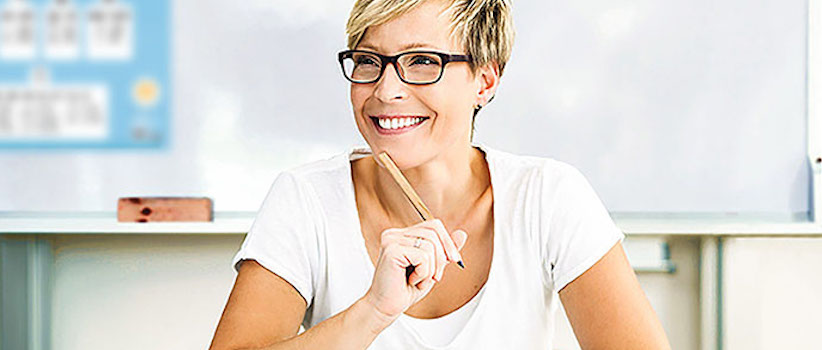 Systematic synthetic phonics has been in the spotlight lately, with the trial of a Year 1 Phonics Check in South Australia and the New South Wales government allocating funding for decodable texts. So what exactly is systematic synthetic phonics? What evidence is there for its effectiveness? And how does Sound Waves Spelling fit into the picture?
Systematic synthetic phonics
Systematic synthetic phonics is an approach to phonics instruction that involves explicitly and systematically teaching the relationship between phonemes and graphemes. Instruction focuses on developing students' ability to segment words into sounds and synthesise, or blend, sounds to form words. Lessons are systematically sequenced so that students progress from learning simple, broadly applicable phoneme–grapheme relationships to those that are more complex and unusual. In the early years, lessons also incorporate the use of decodable texts to teach reading.
The evidence
There's been a lot of research in recent years analysing different approaches to teaching reading and spelling. This research shows that systematic synthetic phonics is an essential and effective method for developing students' reading and spelling proficiency. Several relevant studies and reports from the past two decades are summarised below.
2000 – The National Reading Panel in the US conducts a review of research, finding that systematic synthetic phonics significantly helps children struggling to read, and also benefits good readers. The study concludes, 'Systematic phonics instruction has been used widely over a long period of time with positive results.'1 Read this study in full.
2005 – The Australian Government's National Inquiry into the Teaching of Literacy report recommends that 'teachers provide systematic, direct and explicit phonics instruction so that children master the essential alphabetic code-breaking skills required for foundational reading proficiency'.2 Read this study in full.
2005 – Johnston and Watson conduct the seven-year longitudinal Clackmannanshire study comparing children taught using synthetic phonics with children taught using alternative methods of phonics. They find, 'At the end of the programme, the synthetic phonics taught group were reading and spelling 7 months ahead of chronological age. They read words around 7 months ahead of the other two groups, and were 8 to 9 months ahead in spelling.'3 Read this study in full.
2005 – Christensen and Bowey compare the progress of children taught using synthetic phonics with those taught using alternative methods of phonics instruction. Children who were taught using synthetic phonics outperformed children in comparison groups on measures of spelling, word reading and reading comprehension. Their study shows distinct benefits with the grapheme–phoneme approach (see Fig 1), with significantly higher reading ages and clearly improved skills, including:
"better at spelling transfer words"
"faster at reading program words"
"significantly better in reading comprehension"
"greater competence in … the accuracy and speed of decoding unfamiliar [transfer] words".4
Fig 1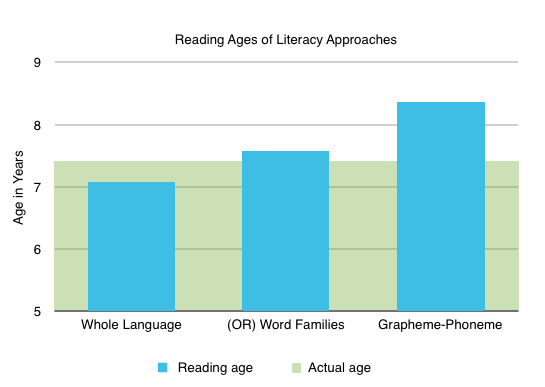 2007 – Macquarie University professor Max Coltheart and University of Melbourne professor Margot Prior analyse global studies and Australian literature, and confirm that 'systematic instruction in phonics is an essential component of any effective method of teaching reading'.5 Read this study in full.
2012 – Researchers assess ten-year-olds who participated in the Clackmannanshire study in their early years of schooling, comparing the abilities of those taught using synthetic phonics with those taught using an alternative method of phonics. The study finds, 'Overall, the group taught by synthetic phonics had better word reading, spelling, and reading comprehension.'6 Read this study in full.
2018 – Five From Five releases a research brief on systematic synthetic phonics that states, 'The instructional principles of SSP (systematic synthetic phonics) align with the scientific evidence of the cognitive processes involved in learning to read.'7 Read this study in full.
Sound Waves Spelling: Systematic synthetic phonics for the whole school
Sound Waves Spelling is a whole-school systematic synthetic phonics and word-study program designed to develop reading, spelling and writing skills from Foundation through to the final years of primary school. The program provides all the resources and guidance teachers need to implement systematic synthetic phonics, including comprehensive Scope and Sequence documents, lesson guides and engaging student activities. For Foundation teachers, there's even a bank of Decodable Readers perfect for introducing beginning reading.
Sound Waves Spelling goes beyond phonics to include all the other essential components students need to read and spell. As the years progress, a significant portion of teaching is dedicated to word study, including morphology (prefixes, suffixes and Greek and Latin roots), etymology (word origins) and language concepts like homophones and homographs.
If you're interested in systematic synthetic phonics – the scientifically validated approach to teaching reading and spelling – then ask one of our education consultants about Sound Waves Spelling today.
References
More Sound Waves Spelling articles & videos