Teacher Spotlight – How Jess Clarke celebrates Indigenous Australian culture in the classroom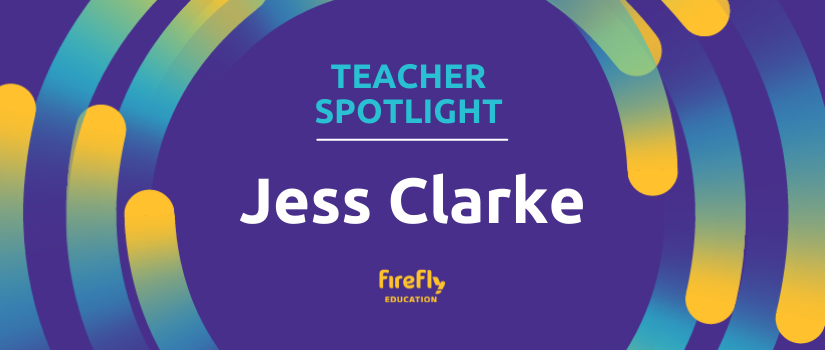 Firefly Education's 'Teacher Spotlight' shares insights from a variety of education influencers who inspire fellow teachers with their unique classroom knowledge and helpful resources.
As the school day begins in Jess Clarke's classroom, students unite to say an Acknowledgement of Country and Aboriginal and Torres Strait Islander flags are proudly displayed.
These are just two of the ways the upper primary teacher and self-taught contemporary Indigenous Australian artist incorporates First Nations perspectives into her classroom.
Jess is a Muthi Muthi woman and a passionate advocate for First Nations education, which she promotes through her Instagram account @muthi.tidda. She believes it's important to share her culture with her students, so they feel comfortable sharing their culture with her in return.
'My students are excited to learn about Indigenous perspectives, because they're able to see my excitement for it. I think that's what teaching is ultimately about. If you, as an educator, show passion and enthusiasm, it becomes contagious for the students,' she said. 
Within her classroom, Jess works hard to ensure her students know why it's important to acknowledge and celebrate First Nations culture through special events such as NAIDOC Week, National Reconciliation Week and Indigenous Literacy Day. First Nations culture is also incorporated into her everyday teaching practices and cultural resources are readily available to her students.
Channelling her artistic talent, Jess created a bespoke artwork that represents her school community. Each month she also brings in a new piece of art to show to her students and help facilitate discussion. 
'They love seeing my art and asking me questions about it. I've even had several students go visit my artwork in our local gallery,' Jess said.
Jess believes the best way for teachers to meaningfully incorporate First Nations perspectives into their classrooms is to 'inspire whilst being inspired'.
'Last year during NAIDOC Week I incorporated my love of art and had my students practise painting on rocks, leaves, pots, canvas, paper and wood materials. We spent most of the week immersing ourselves in the beautiful culture of Indigenous art. Not one student wasn't excited or engaged. Even those who don't particularly enjoy arts and crafts were getting involved,' she said.
While Jess was only offered one Indigenous-based subject during her four years at university, she sought out her own pathways and found reliable information sources to educate herself about First Nations culture.
Jess's advice for other teachers is to do your own research and engage with new content that fuels your love and excitement for learning about First Nations peoples.
For more tips, follow Jess's instagram page @muthi.tidda.