A guide to the Sound Waves Spelling Diagnostic Test
Sound Waves Spelling 23/2/21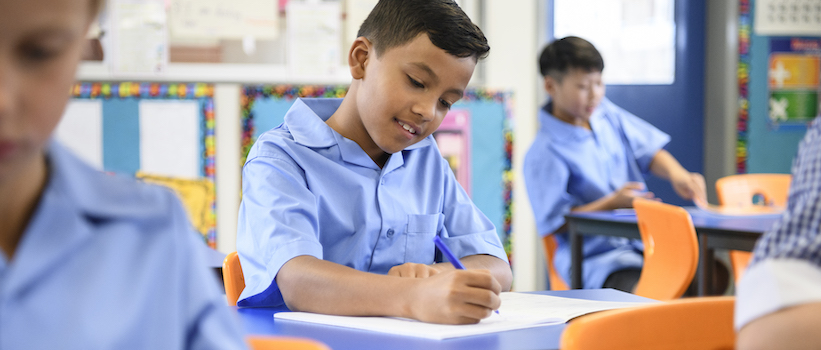 We've put together a quick guide to help you understand everything there is to know about the Spelling Diagnostic Test, including where to find it, when to administer it, how to mark it and how to incorporate any required remediation into your spelling lessons.
What is the Spelling Diagnostic Test?
The Spelling Diagnostic Test is an assessment that allows you to both:
compare a student's general spelling ability against same-aged peers, and;
diagnose a student's strengths and weaknesses across specific spelling concepts.
There are two versions of the test: the Lower Years Test contains 70 words suitable for students in Years 1–3, and the Upper Years Test contains 70 words suitable for students in Years 4–6.
A student's score out of 70 is used to compare their spelling ability against an Australian sample of same-aged peers.
Those same 70 words are grouped into 'sets' according to the spelling concepts within the words (e.g. Set C: consonant digraphs). A student's ability to correctly spell the letter or letter combinations associated with the concept in each set is used to diagnose specific spelling strengths and weaknesses.
Where can I find the Spelling Diagnostic Test?
Log in to your Firefly Online account and open the relevant Sound Waves Spelling Online year level and navigate to the Assessment section.
Here, you'll find these three downloads:
Spelling Diagnostic Test Pack
: Contains test instructions, test, marking guide and remediation checklist.
Spelling Diagnostic Remediation Pack
: Contains activities and worksheets to remediate each spelling concept tested.
Spelling Diagnostic Results Template:
 A spreadsheet to record and calculate students' results.
When should I administer the test?
The Spelling Diagnostic Test should be administered twice per year, at the start of each semester. To get the most out of the diagnostic and remediation process, we recommend the following testing schedule:
administer the test to your new students at the start of the year
implement any required remediation in terms 1 and 2
administer the test again at the start of term 3
implement required remediation in terms 3 and 4.
How do I mark the test?
The Spelling Diagnostic Test is marked in two sweeps.
The first marking sweep involves looking at whole words and marking them correct or incorrect. Think of this as the 'traditional' way of marking a spelling test. It is this score (out of 70) that is used to compare a student's general spelling ability against same-aged peers.

The second marking sweep involves looking within words and marking specific word parts correct or incorrect (according to the spelling concept within the set).
For example, the focus of Set C in the Lower Years Test is consonant digraphs. The student below receives one mark for each correct consonant digraph. Notice that although the words chin and when are spelled incorrectly, the student still receives a mark for each because the consonant digraph within each word is correct. The scores from each set are used to diagnose a student's spelling strengths and weaknesses.

You can record and collate scores using the Results Template. For more details on administering and marking the test, see the instructions in the Test Pack.
How can I conduct remediation?
Use the Remediation Pack to help address any spelling concepts students struggled with in the test. Each Remediation Pack includes:
games and activity ideas
student worksheets and answers
word lists
templates.
You can pick and choose from the suggestions provided for each spelling concept, or use the word lists and templates to create your own remediation activities.
Look for opportunities throughout the term to conduct remediation. For example, you could plan to work on remediation in weeks where sound units have simpler phoneme-grapheme relationships.
Depending on the overall results for your class, it may be better to remediate as a whole class or in small groups.
Remediate as a whole class
If a large portion of your class found a particular spelling concept difficult, integrate the suggested games for that concept into your Sound Waves Spelling lesson warm-ups. Or, use the relevant word lists to model spelling and conduct quick, daily dictation practice.
Remediate in small groups
If just a handful of students require remediation for a particular spelling concept, reteach the concept in a small group using the resources provided in the pack. This works best when scheduled towards the end of your Sound Waves Spelling week. By this time most students should be able to work independently on consolidation activities for the week's sound unit while you work with the small group.
Tell us what you love about the Spelling Diagnostic Test and how your school uses this valuable resource. Tag us on Instagram, Facebook, or Twitter.
More Sound Waves Spelling articles & videos