Firefly Education celebrates multiple wins at the 2019 Educational Publishing Awards Australia
29/11/19
The Educational Publishing Awards Australia recognises the best of the best in educational resources and for the fourth year in a row we've taken home multiple wins!
Firefly Education directors Peter Stannard and Ann Smales are ecstatic to see continued success with the Sound Waves and Think Mentals learning resources.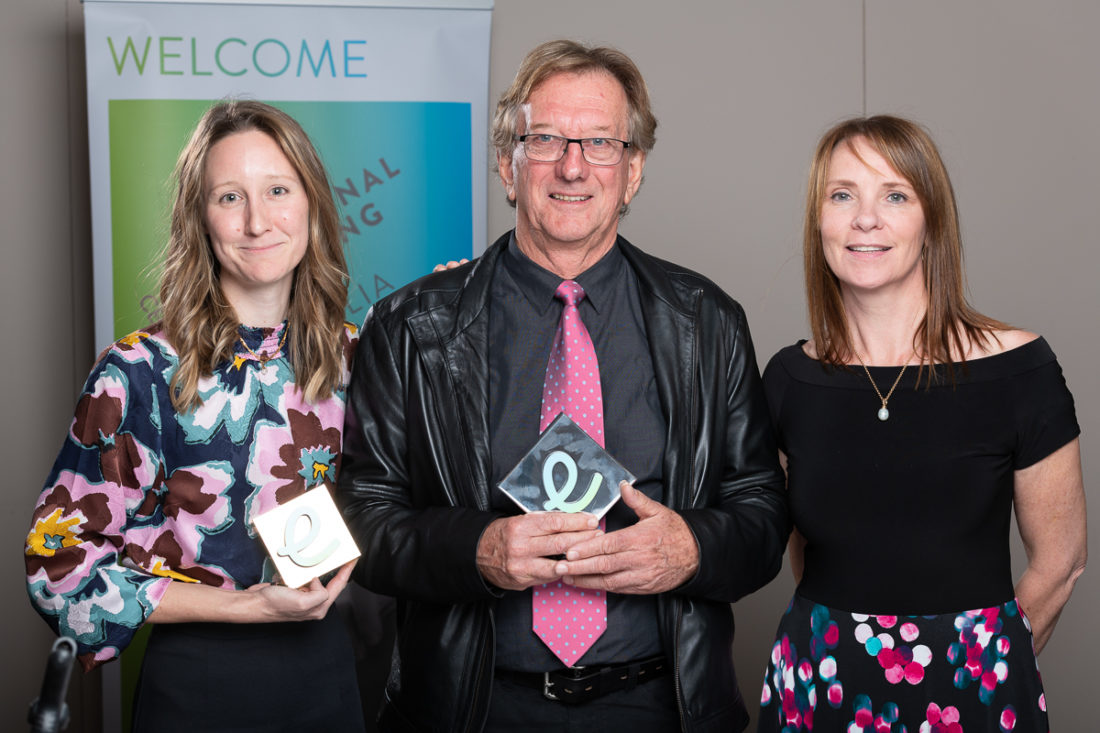 Left to right: Nicole Forrest - Curriculum Content Manager (Literacy), Peter Stannard - Director, Shona Henderson - Curriculum Content Manager (Maths)
So what made these latest award winners worthy of their accolades?
First a look at the win for literacy …
Last year's revamp of the Sound Waves Foundation program included explicit teaching lesson plans, engaging teaching tools, full-colour illustrations and more.
Nicole Forrest, literacy specialist, advocates that "all schools need systematic, evidence-based approaches to spelling and reading instruction. The last few years have propelled change, and we are in the middle of an exciting and productive time for literacy teaching." The Sound Waves Foundation aligns with research on the best practices in early reading and spelling instruction.
Now let's check out the win for numeracy …
Following in the footsteps of the award-winning Student Workbooks back in 2016, now Think Mentals Digital Classroom is also recognised as a standout in educational resources for mathematics.
Using the same friendly strategies and consistent structure as the workbooks, the digital classroom provides a plethora of additional time-saving benefits for teachers, and offers an engaging multi-modal approach to mental computation for students. Features include engaging videos and slideshows, interactive activities, automatic marking and data collation in student and class portfolios.
But wait there's more …
In addition to these exciting wins, Firefly Education Director Peter Stannard took home The Mike Horsley Award which recognises outstanding service to the Australian educational publishing industry.
Peter has been immersed in the education industry for close to 50 years. Having authored over 60 educational titles, and selling over 1 million copies of those texts, Peter's contribution to the Australian educational landscape is awe-inspiring. A well-deserved win for such an accomplished industry leader!
Carlee Driscoll, General Manager for Firefly Education, shared, "I've been fortunate enough to work at Firefly for seven years with Peter and Annie at the helm. Our company culture is absolutely led from the top. Peter's teaching insight, capacity for new ideas and his generosity in mentoring has made, and continues to make, the culture at Firefly Education truly innovative, creative and fun."
We'd like to congratulate all fellow finalists and winners and thank the Educational Publishing Awards Australia for acknowledging the hard work that goes into creating learning resources that set a high standard for Australian classrooms.
Explore our latest award-winning programs
Sound Waves Foundation
Sound Waves is a systematic synthetic phonics and word study program. The Foundation program has a two-phase structure that reflects the highly specialised nature of instruction required when teaching students to spell and read in their first year of school. To find out more:
Think Mentals Digital Classroom
Think Mentals provides a structured approach to mental computation. With friendly strategies, a consistent structure and a suite of online features that take care of all the planning, marking and reporting for you, Think Mentals Digital Classroom makes teaching mental maths a breeze. To find out more: