iMaths wins the BEST Primary Numeracy Award at National Ceremony
7/9/12
Last night in Melbourne, we were thrilled to take top honours at the APA Awards. Our flagship program, iMaths, won the Primary Numeracy Student Resource category and joined winners in the other categories as the best of the best in educational materials released in 2011.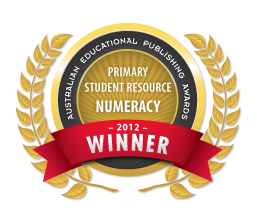 As a whole school program, the release of iMaths into a National Australian market last year was met with much enthusiasm, and the take up across all states has exceeded expectations.
Firefly Director Peter Stannard explained, "after all the positive feedback we have had from teachers and schools using the program, the APA award is the icing on the cake for the iMaths team. We are so proud of this truly unique program and it is a great honour to be recognised for our hard work and dedication".
iMaths was created by an experienced team of authors and educators – Chris Linthorne, Carolyn Smales, Wayne Lightbourne, Jane Rheeder, Mary Serenc and Lena Ford – and supported by the passionate publishing team here at Firefly Education.
Up against programs developed by major global publishers – including joint winner, Envision Maths – the winning iMaths program has a unique approach which is fundamentally based on using mathematics in real-life context investigations, giving students a deeper understanding of maths concepts and their application.
This investigation-based approach, augmented by substantial tools and resources to support teachers, is what genuinely sets iMaths apart from its competition.
Peter Stannard was also honoured to present the Secondary Student Resource (Junior) Award to Oxford University Press for Big Ideas History.
Along with our iMaths authors, we are proud to have been recognised by APA, congratulate our fellow finalists and winners, and thank the APA for acknowledging the excellent materials developed by Australian publishers.