Firefly broadens its cultural capabilities in support of First Nations peoples
3/3/21
The Firefly team has recently embarked on a journey of self-reflection and learning as we seek to meaningfully incorporate First Nations perspectives into our content.
Firefly director Ann Smales said, 'First Nations peoples know our history inside and out, and we barely know anything about theirs. There is no time like the present to broaden our knowledge and understanding'.
And so we began our journey by visiting the Aboriginal Shire of Cherbourg.
Beginning our journey at home
In late 2020, we travelled two hours north-west from our hub on the Sunshine Coast (Gubbi Gubbi/Kabi Kabi Country) to the Ration Shed Museum at Cherbourg (Wakka Wakka Country).
We were overwhelmed by the generosity of the elders as they shared personal stories to help us understand the history of Cherbourg.
Elders Aunty Ada Simpson, Uncle Eric Law and Aunty Sandra Morgan all shared first-hand stories of life living under the Queensland Government's 1897 Aboriginal Protection Act. The same act that forced the people living at Barambah to line up each week to collect their food rations from the Ration Shed.
Despite the incredible suffering that took place at this site, the Ration Shed Museum now stands proudly in the centre of town. It has become a cultural hub dedicated to honouring Indigenous resilience, endurance and achievements.
Content writer Robyn Hungerford said it was eye-opening to visit the Ration Shed Museum and reflect on the Elders' stories.
'What has been created there is a living archive into the past that shapes the future,' she said. 'It is a story of survival and hope. Even though the history is sad, and fired up some anger in me, I walked away with a sense of positivity that I hope I can incorporate into my writing. It gave me time to think more deeply about what it means to "be an ally" and this experience answered many questions I had about how to build my own cultural understanding and capabilities.'

Fireflies at The Ration Shed.
Our team worked closely with Indigenous education consultant, Sally Lawrence for two days to reflect on our own understanding of First Nations peoples and cultures. This introspective included working to identify areas within the company that could authentically incorporate Indigenous perspectives better.
Content writer Emma Dean said she felt galvanised by the experience.
'I'm keen about learning more and finding ways to help teachers incorporate Indigenous perspectives in the classroom,' she said. 'Our Ration Shed experience helped me to understand how rich, sophisticated and complex First Nations cultures are.'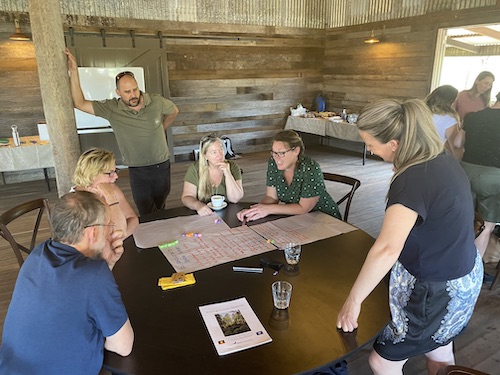 Fireflies brainstorm ways to become better allies with First Nations peoples.
Beginning our journey interstate
Our interstate Fireflies also connected with their local Indigenous communities.
While COVID-19 restrictions meant our Victoria-based education consultant Carmel Menzies was only able to participate virtually, she also completed a variety of at-home activities designed to help her learn and connect with Indigenous history.
West Australian-based education consultant Renschè Diggeden visited Rottnest Island (Wadjemup in the local Whadjuk Noongar language).
For Renschè, the experience was more impactful than she had expected.
'The stories that came out of this Country were deeply moving,' she said. 'For many people living in WA, Rottnest Island is a holiday playground. So, to learn that this island was a prison colony, and then a forced labour camp for over 100 years, was very jarring.'
NSW-based education consultants Ben Thomson, Dianne Sutherland and Lachlan Peters visited the streets of Redfern with Tribal Warrior's Aunty Donna, to understand more about their local Indigenous community.
Lachlan said, 'It's important to find these kinds of authentic experiences to connect you with Indigenous Australian culture.'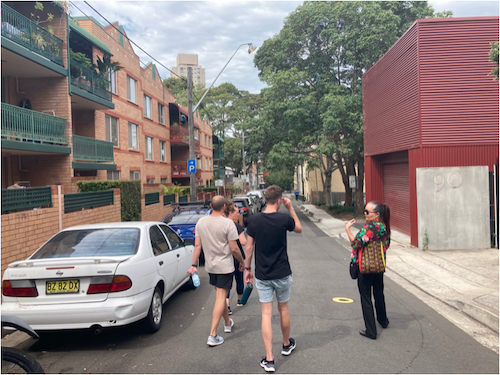 NSW-based Fireflies in Redfern.
Looking forward
These experiences are just the start of our efforts to broaden our cultural capabilities.
Assistant Editor Annie Bailey said she was grateful for the company's support to embark on such a journey.
'It doesn't matter if you are a seasoned traveller or someone taking their first tentative steps in this learning journey, whatever road you take will ultimately lead towards reconciliation.'
We hope that through authentic experiences and research, we can find ways to incorporate Indigenous perspectives into our resources. After all, education is the first and most important step in driving change.
If you're interested in learning more about the experiences we participated in, follow the links below: