Back to Differentiation articles & videos
Teaching English in a composite class
English Stars 20/2/20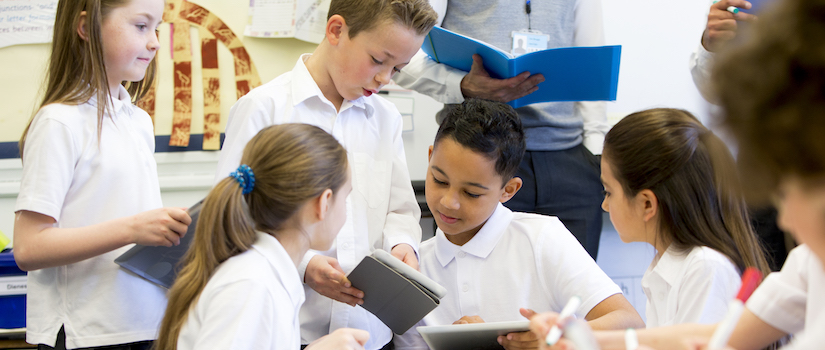 Teaching a composite class (or any class with students working at various curriculum levels) has its challenges, but the right planning, strategies and tools can ease the load. Try these ideas to deliver seamless English lessons that allow you to meet the objectives of multiple curriculum levels within the one classroom.
Use a shared text type
Wherever possible focus on a single text type in your class rather than teaching different text types to different curriculum levels. A shared text type maximises opportunities to deliver whole-class teaching and reduces the demand for you to juggle teaching two (or more) concepts at once.
English Stars makes this process easy as all units are centred around a text type. Use the English Stars Yearly Plans to identify units that share a common text type across different curriculum levels. For example, you could simultaneously teach the units Persuade Me! (Year 4, Unit 5) and Power of Persuasion (Year 5, Unit 2) to your upper-primary class.
Use a mix of offline and online activities
There will be times when you want to teach the same content to the whole class. Comprehension activities are ideal for this as they cover similar content descriptions across the different year levels. When teaching the same content to the whole class, adjusting the activity format (online vs offline) can help with differentiation.
For example, you could teach the whole class the English Stars comprehension module Alice's Adventures in Wonderland (Year 5, Unit 8). After reading and discussing the text as a class, have higher-ability students complete the activities online – where they'll enjoy the instant verification of answers as they independently work through the questions. Meanwhile, work with lower-ability students using the printable worksheets so you can collaborate and intervene as needed.
English Stars gives you the ultimate flexibility when it comes to activities: both teachers and students have access to all year levels of content (Years 3–6), and most modules include activities in both online or offline (as printable worksheets) formats.
Use Task modules to facilitate independent work
There will be times when you will want to explicitly teach a concept to just one year level (or ability) group. This means you need meaningful independent work for those students not involved in your explicit lesson.
English Stars Task modules are perfect for independent work. They give students the opportunity to develop their writing skills using concepts previously learned in a unit, with minimal teacher instruction required.
For example, in the Power of Persuasion Unit (Year 5), the task Write a Persuasive Essay is placed after students have learned about persuasive language techniques and essay structure, and have completed comprehension activities based on persuasive texts. With one group of students equipped to complete the task independently, you're free to teach a different concept to the other group.
Use the Activity Tracker to monitor progress
Understanding how your students are progressing is vital to every teacher, but it becomes more difficult when you have to keep track of multiple curriculums and activities within the one classroom. This is where a digital resource has an edge.
The Activity Tracker in English Stars populates students' answers in real time and monitors their progress. Use this tool to observe student performance and intervene as needed.
If students complete activities from different modules simultaneously, open each Activity Tracker in a new tab or window. This allows you to quickly navigate between the different Activity Trackers and keep an eye on all students during the lesson.
What are your tips for teaching English in a composite or mixed-ability class? Share your ideas on social media and tag us on Facebook, Twitter and Instagram.
More English Stars articles & videos