Making maths meaningful with Maths Trek 
Maths Trek 17/10/23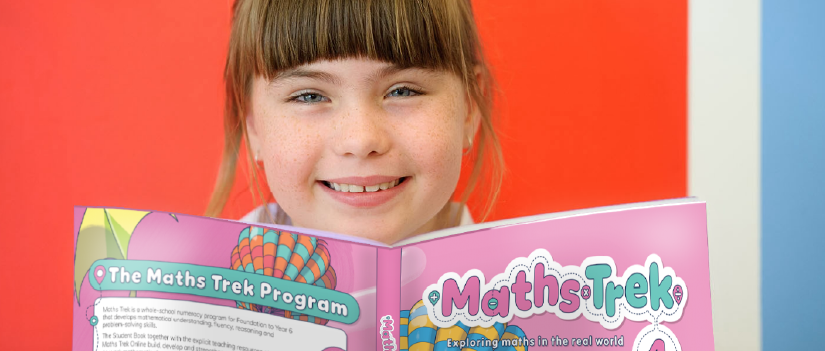 Firefly Education has just launched its groundbreaking new primary maths resource – Maths Trek.
With everything you need to develop mathematical understanding, fluency, reasoning and problem-solving skills, Maths Trek's innovative structure is designed to make maths meaningful.
This whole-school numeracy program for Foundation to Year 6 is written for the new Australian Curriculum Version 9.0 and will be ready to use in classrooms in 2024.
But what makes this maths resource stand out from the rest? And how does it work?
I do, we do, you do 
The Maths Trek resources help teachers deliver an 'I do, we do, you do' approach.
I do – Maths Trek Online is home to lesson guides, teaching slides, interactive teaching tools, videos and exemplars for you to explicitly teach each topic, problem-solving strategy and investigation.
We do – The Student Book is packed with teacher-guided activities and modelled examples for you to discuss and work through with your students.
You do – Students apply what they've learned in the lesson to the independent activities in their Student Books.
Engaging maths lessons your students will love
Bursting with colour and imaginative designs, Maths Trek takes the ordinary out of maths class for you and your students.
The fun starts from day one with the Maths is everywhere lesson, which gets students to apply their maths knowledge to activities cleverly inspired by the art on the Student Book cover.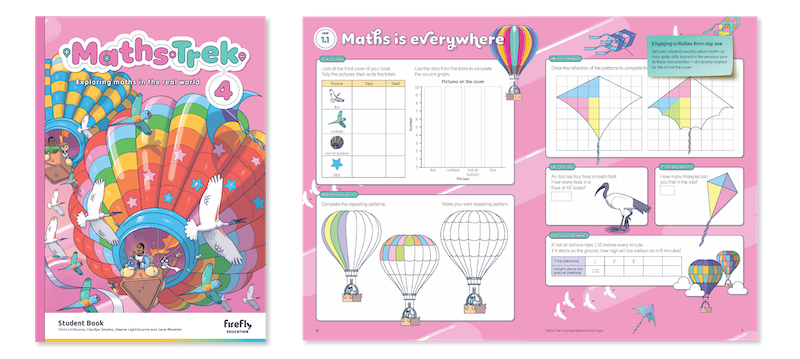 Make your lessons an adventure in maths with fun warm-ups, interactive tools and the clever problem-solving, place value and investigation videos. For Foundation students, there are plenty of hands-on activities, and songs to sing and move along to.
Keep your fast finishers engaged with challenges, maths puzzles and games, and the extra investigations.
Investigations with a difference 
Addressing both reasoning and fluency, investigations allow students to explore maths through real-world scenarios. Investigations help students to see that maths exists all around us!
From measuring how much water drips from the tap in your classroom to calculating distances on an around-the-world trip – every investigation is engaging and meaningful for students. 
Unlike other resources, Maths Trek investigations are completed over several days. This in-depth approach provides valuable opportunities for students to apply their content knowledge and problem-solving skills to unfamiliar, extended mathematical problems.
Focus on critical thinking 
A unique feature of the Maths Trek investigations are the culminating critical thinking lessons.
Designed to increase students' informed capacity for logical thought and actions, the critical thinking lessons excel at addressing the guidelines set in the F–10 Australian Curriculum for Mathematics Version 9.0.
At Maths Trek Online you'll find critical thinking lessons, cognitive verb definitions, modelled examples and hints — all designed to help your students understand and craft well-reasoned responses to critical thinking questions.
Consolidate and track through revision and assessment 
Use the dedicated revision activities throughout the Student Book to consolidate learning and identify strengths and weaknesses.
Each term your students will also complete a summative assessment that covers all content taught in the preceding topics. Each assessment includes graded C to A level questions, and has been carefully planned to allow ample time for end-of-term reporting.
The formative checklists in the investigations are another way to report on your students' work and assess how well they have applied their maths knowledge.
Support for teachers and students 
Every teacher understands the value of resources that support both you and your students in the classroom.
From detailed teaching notes to comprehensive lesson guides, Maths Trek provides a wealth of resources to assist in your preparation and planning.
Maths Trek includes two levels of printable differentiation tasks for every topic in Years 1 to 6 to support or extend your students. Foundation topics include two levels of printable differentiation tasks for consolidation and extension.
Want to learn more?
To find out more about Maths Trek, head to our website to view a sample of our student books, or sign up for a free trial.
More Maths Trek articles & videos