Part one: Tips for developing your students' gross motor skills
Writing Time 12/5/16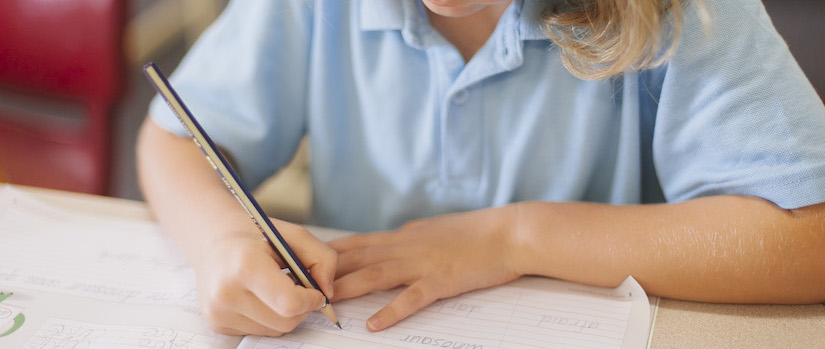 Do you sometimes see students slouched and fatigued at their desks? Do they complain that their hand is tired after a short writing task? The problem could be poor gross motor development.
Gross motor activities help develop muscle strength in the back, shoulders and arms, which assist postural control and stamina for sustained writing tasks.
Try incorporating these fun gross motor activities into your weekly program to improve your students' handwriting development by asking them to:
Draw or paint on a vertical surface – draw on an easel, chalkboard or large sheet of paper against a fence.
Complete an obstacle course in your classroom or outdoors – climb and crawl over and under objects, squeeze through tunnels, walk along a balance beam or on edges of tyres.
Run animal races and relays – crab walk, wheelbarrow walk, duck walk or bear walk.
Play with sand and water – draw in sand trays, dig, pour, lift buckets, push wheelbarrows.
Engage in dance and play activities – use actions that involve moving body parts in different directions.
Want free resources to improve gross motor skills and more?
Writing Time Online is a free handwriting resource catering to Queensland, New South Wales and Victorian handwriting fonts.
There are many ways you can use the range of features at Writing Time Online for developing gross motor skills:
Project the 3Ps to help students model posture, paper position and pencil grip.
Play the Hero Line songs and perform the associated directional handwriting movements as a class.
Project the See & Trace tool and ask students to follow the letter formation movements in the air with sweeping arm motions.
Project the Blank Lines for students to practise writing letters on the whiteboard.
At Writing Time Online, you'll also find over 100 worksheets including slope cards, differentiated practice, assessment guides, checklists and more.
So, what are you waiting for? Sign up now.
For more handwriting tips read our Part two: Tips for developing students' fine motor skills article.
More Writing Time articles & videos