Enhancing Spelling Success: The Sound Waves Journey at Bayside Christian College
Sound Waves Spelling 19/10/23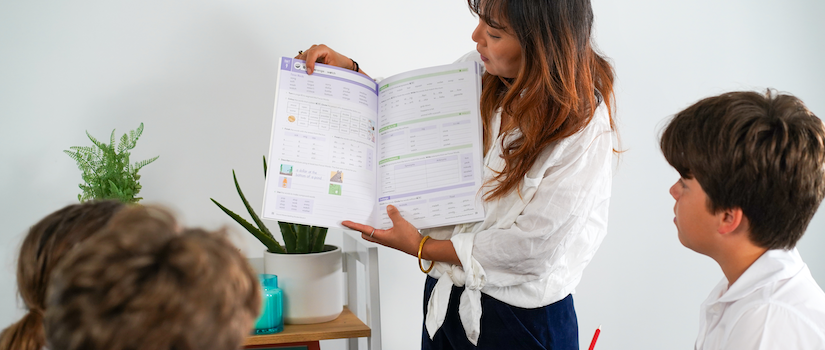 Bayside Christian College wanted to implement a comprehensive spelling program equipped with user-friendly resources and supported by professional development. Luckily, their search led them to discover Sound Waves.
We caught up with Amanda Mulder, the Head of Junior School, to find out more about why Bayside Christian College decided to adopt Sound Waves, how teachers have embraced it, and the remarkable impact this whole-school program has had on students' spelling skills.
Explicit, engaging and supportive instruction
With an extensive range of resources and engaging activities, Sound Waves aligned with the college's vision for comprehensive spelling education. For the staff at Bayside Christian College, what set Sound Waves apart from other programs is the explicit, structured approach to teaching spelling, describing it as 'incredibly beneficial in helping students identify and understand spelling patterns'.
'Sound Waves has a systematic and structured approach to teaching spelling that introduces new words in a systematic way,' Amanda explains. 'It has multiple practice opportunities and revision of activities, and the use of a scope and sequence across all year levels provides so much valuable information for teachers to plan their lessons ahead.'
Another standout feature is its interactive nature. The program keeps students engaged through its hands-on activities, videos, games, student books and visual aids. These interactive and engaging features of the Sound Waves program appeal to both staff and students at Bayside Christian College. One teacher shares, 'Phonemic awareness has improved and my students have developed a new excitement and motivation for their spelling lessons – they cannot wait to chant and sing the songs!'
Teachers also love that Sound Waves acknowledges that each student is unique, providing age-appropriate content that caters to diverse learning needs, and giving teachers the tools to address each student's specific needs, fostering a more inclusive learning environment. Amanda, who has been actively collecting data since the inception of the program, is very impressed and has seen a huge improvement in students' spelling across the school.
Cementing success with professional development
Since taking on the program, Bayside Christian College has found immense value in the complimentary professional development workshops Firefly offers. Queensland-based Education Consultant Michelle Retchless has provided several of these development sessions to ensure staff are equipped with an in-depth knowledge of the program.
'We have found the PD Workshops to be extremely informative,' Amanda explains. 'Michelle is super approachable and all PDs were presented in a vibrant and energetic way, which motivated all teachers who attended. We also invite our teacher aides to attend so that everyone is on the same page. Every PD is very informative and interactive, and the teachers and teacher aides enjoy it so much they want more!'
These workshops provide teachers with the opportunity to learn about the different features of the program and delve deeper into the underlying pedagogy of how a systematic, synthetic phonics-based spelling program can positively impact students' spelling results.
'I have witnessed firsthand the positive results of Sound Waves in improving students' spelling abilities,' one teacher shares. 'Since introducing the program to my classroom, I have seen a significant improvement in general spelling and writing pieces for my students. It has made spelling engaging and fun, and I am thrilled with how much my students have progressed.'
A whole-school commitment
While Bayside Christian College has already seen significant improvements since introducing Sound Waves, they understand that ongoing spelling success requires a consistent whole-school commitment.
For other schools considering Sound Waves, the educators at Bayside Christian College have shared that the program's success lies in it being adopted holistically. For Amanda and the teachers at Bayside, this commitment to consistency means ensuring that they receive regular ongoing Professional Development, as well as the school adopting the program in its entirety.
'Sound Waves should be used as a program in total,' Amanda explains. 'All resources should be used in conjunction with explicit teaching. It is lovely to compare progression across the different year levels because all students are doing the same sound in any particular week.'
Has Sound Waves made an impact at your school? We love hearing about the schools using our resources! Share your ideas and experiences on social media and tag us on Facebook or Instagram. Contact us if you'd like to share your experience as part of a case study.
More Sound Waves Spelling articles & videos