Teacher Spotlight – How Karyn Phillips uses her classroom to be a First Nations ally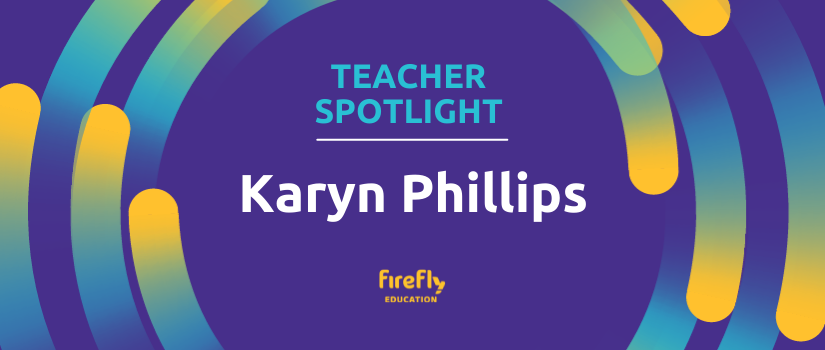 Teacher Spotlight is a new series by Firefly Education that will share insights from a variety of education influencers who inspire fellow teachers with their unique classroom knowledge and helpful resources.
Every teacher knows that when it comes to learning – consistency is key. With this in mind, Karyn Phillips' school, St Aloysius Catholic Primary School, has implemented dedicated 'First Nations activity time' to help junior students meaningfully connect with First Nations culture on a regular basis.
Karyn @wild_about_learning is a Prep/ Year 1 teacher living and working on Wathaurong Country. While not of First Nations descent herself, she has become a passionate ally who recognises the importance of educating children about First Nations history and culture.
'I think it's important that children are educated about Indigenous culture and the impact it has on their lives. It is an extremely important part of our history. We believe in recognising the contributions First Nations people have made to our world and acknowledging them as the traditional owners of the land,' she said.
Exploring First Nations culture through texts
Karyn encourages her students to make connections by exposing them to texts that incorporate First Nations culture and perspectives.
'We read many Indigenous picture books and talk about the connections we have made with the stories,' she said.
After reading Why I Love Australia by Bundjalung woman Bronwyn Bancroft, Karyn had her students respond to the story by recording what they love about Australia.
During Family Week, she took the opportunity to read Family by Boonwurrung Elder Fay Muir and Sue Lawson and then prompted a class discussion about Indigenous families and traditions.
Karyn believes it's important for teachers to source texts written by First Nations peoples, and find creative ways for students to interact with them. She recommends checking out Indigenous publishing house Magabala Books for inspiration.
'Not only do they stock a collection of books written by Indigenous authors, they also provide culturally relevant teaching resources,' she said.
Looking for cross-curricular learning opportunities
When seeking opportunities to implement First Nations perspectives, Karyn looks to all areas of the curriculum – from playing Indigenous games during sports lessons to native fauna and flora exploration during Science Week.
'During Science Week our students completed activities with an Indigenous perspective,' explained Karyn. 'We explored native plants and animals and the link that First Nations people have with country.'
Karyn's students love learning about First Nations peoples and their connection to the land.
'We learn a lot about the First Nations that we didn't already know,' one student, RJ, said. 'We have learnt how they live on country. I have enjoyed learning about how they do things that seem amazing to us like how they know there is fresh water if they see a Zebra Finch.'
Another student added, 'I enjoy listening to stories about Indigenous people because I get to learn more. I loved the Science Week activity because it was cool to learn about how the First Nations people know more about native plants and animals'.
Seeking professional learning opportunities
Like many teachers, Karyn's education did not prepare her to teach First Nations perspectives so she sought her own learning opportunities.
Narana Cultural Centre has been instrumental in helping Karyn understand more about her local Indigenous community. During her visits she's been able to have many authentic learning experiences.
For a broader understanding of First Nations perspectives, she turns to Australians Together – a platform that promotes the voices of Indigenous Australians and educates non-Indigenous people about how to become an ally.
She was also lucky enough to attend a professional development session hosted by Indigenous Elder, and 2021 Senior Australian of the Year, Dr Miriam Rose Ungunmerr-Baumann. Karyn said this session helped her foster an awareness and appreciation of the environment around her.
Learning from other educators
Karyn uses her platform to not only share how she's incorporating First Nations perspectives in her classroom, but to connect with and learn from other teachers doing the same.
'Ash @miss.gibbs_ is my go-to when I need inspiration and ideas,' she said. 'She has an amazing wealth of knowledge. She creates resources linked to Indigenous books and provides tips on how to respectfully embed Indigenous perspectives.'
Karyn also uses the Listen. Learn. Act. resource from @giftedandtalentedteacher and @learning_to_ngangaanha, which aims to educate teachers about First Nations peoples so that they may educate the future generations of Australia.
'It's an excellent resource that has helped me to embed Indigenous learning in my classroom,' she said.
'I love how the document encourages you to listen, read, learn and make a stand. There is a wide range of activities that are set out clearly and provide many different learning opportunities – for educators and students.'
Overall, the community of First Nations educators on Instagram has been extremely supportive.
'I have made some strong connections and friendships,' Karyn said. 'They have challenged my thinking, supported me through tough times and provided never-ending inspiration.'
Karyn's golden tips
For any teacher looking to become an ally, and more confidently embed Indigenous perspectives in your classroom, here are Karyn's top tips:
be prepared to learn from others
ask questions to make sure you are being culturally responsive/appropriate
reach out to local Indigenous groups for support
consult with Elders in your local community
support First Nations artists, authors and businesses
follow First Nations educators on social media.
For more, check out Karyn's Instagram page @wild_about_learning.