Teacher Spotlight: Brooke Cuthbertson's push for inclusive education for First Nations peoples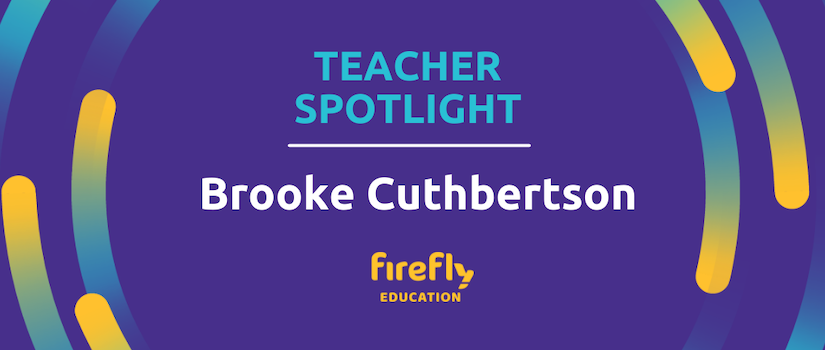 Firefly Education's 'Teacher Spotlight' shares insights from a variety of education influencers who inspire fellow teachers with their unique classroom knowledge and helpful resources.
Brooke Cuthbertson is a proud Melukerdee and Nuenonne Palawa woman from Lutruwita (Tasmania) and when she was in high school, an inspiring First Nations woman opened her eyes to the power of representation.
Aunty Blondie was an Aboriginal School Officer and despite Brooke's self-confessed 'disengaged' attitude towards her studies, Aunty Blondie offered her continuous support and understanding throughout her schooling years.
'The support that Aunty Blondie provided to myself, and other First Nations students, ignited a fire within me, a passion for First Nations education and furthermore, a drive to improve educational outcomes for mob,' she said.
Brooke is now following in Aunty Blondie's footsteps as an Aboriginal Liaison Officer and is on a mission to ensure Aboriginal and Torres Strait Islander students see their own cultures included and acknowledged in the classroom.
While Aunty Blondie was an active member of the school environment, Brooke was never taught by a First Nations educator. Because of this, she felt extremely underrepresented throughout her education.
'It is imperative that Aboriginal and Torres Strait Islander students feel represented within the education system. Ensuring that First Nations identities and cultures are represented in education encourages Aboriginal and Torres Strait Islander students to actively participate in learning experiences. This is something that is close to my heart.'
Brooke works in a secondary school where she supports Aboriginal and Torres Strait Islander students as well as their families and communities.
'A big part of my job is promoting the integration of First Nations knowledge and perspectives across all learning areas. I also provide invaluable cultural education to staff and students at the college.'
Brooke acknowledges many Australians received a 'white-washed' version of Australian history. She remembers being told Australia was a 'young' nation, that Captain Cook 'discovered' this land and that one of the nation's most iconic natural wonders should be referred to as 'Ayers Rock' rather than Uluru.
'Authentic truth telling and historical acceptance are paramount in order for us to move forward together as a nation,' she said.
'It is time that children learn the truth about colonial discord and dispossession. It is time that First Nations stories are shared, highlighting the strength and resilience of Aboriginal and Torres Strait Islander Peoples and their cultures.'
On top of her work at the secondary school, Brooke is also an Ambassador and First Nations Advisory Panel Member for the Know Your Country campaign. This campaign calls to employ First Nations educators in every primary school across Australia.
Brook shared a few tips to help teachers looking to effectively incorporate First Nations perspectives into their own classrooms:
It is essential to firstly reflect on yourself as an educator and as a person. You should recognise and challenge any stereotypes or biases you may have about Aboriginal and Torres Strait Islander Peoples and their cultures. Engage with local Aboriginal and/or Torres Strait Islander Peoples and actively involve First Nations Peoples in the school setting. If you are unsure where to begin, research and contact First Nations organisations within your area or get in touch with your local Aboriginal Land and Sea Council. Incorporate Aboriginal pedagogies, such as Tyson Yunkaporta's 8 Ways framework, within your teaching. Through implementing a range of learning strategies, such as learning maps, land links, non-linear ways of learning, story sharing, deconstructing and reconstructing learning experiences, symbols and images, non-verbal strategies and making community links, students are supported to show their learnings in a number of ways.
Brooke believes students are genuinely engaged and interested to learn about First Nations cultures and histories.
'As educators, it is important that we provide a safe space for students to explore, ask questions and to challenge their beliefs.'
If you'd like to find out more about Brooke's work as an Aboriginal Liaison Officer or her involvement with the Know Your Country campaign, head to her Instagram page @the.palawa.teacher.